Promote your Software Fast and For Free with FullyLicenseKey.com To Increase your website  Traffic and gain your software's brand awareness.
Terms and Condition of the giveaway:
All listings are manually approved and we reserve the right to modify the formatting of your listings to adapt the style of the site or reject any listing that may not suit the interests of our readers or does not comply with our guidelines.
The goal of software content is to organize sweepstakes/giveaways/contests for software programs. This may be any one of the Windows, Mac, Android or iOS software. If you are a publisher or developer that wants to offer licenses for organizing a software contest. An exclusive giveaway uses the form below to contact us and we'll discuss how to organize this best.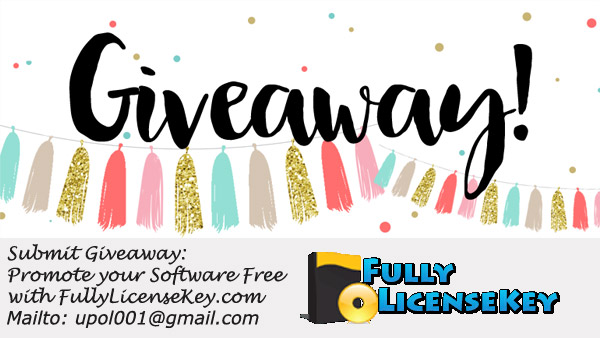 How to Submit Your Software for Publishing a Giveaway with FullyLicenseKey:
Requirements:
1 unique article that should not be published anywhere before
Giveaway Details of the software with Terms and Conditions
Details Images
Please Note:
we don't provide the dofollow link from a software giveaway website
we Don't post a software giveaway that holds for only 1 or 2 days. Minimum 3 days duration to start a giveaway post.
Step 1: Send me the giveaway article to this below email address, if you agree with the above terms and conditions.
Contact Email address: upol001 [at] gmail [dot] com
Step 2: After sending your giveaway details and article to us, we will let you know the URL of the published post.
What Types of Software Giveaway do we want to Publish in FullyLicenseKey.com?
There is a lot of software in the market. Many types of software are available. such as antivirus, internet security, any data recovery software, disk partition software, pc speed up software, pc utility software, video converter, graphic design software, office program and many more. The list of software we want to publish is listed below (its flexible).
Antivirus
Anti-malware
Data Recovery
PC Utilities, PC speed up software
Game booster software
VPN (Virtual Private Network IP location change software) Review, free VPN giveaway
Office Program
Video and Image Software
Graphics Editor, Photo editor
PDF editor, pdf converter, pdf reader
How to Tech Gude about PC, Android, and Mac
Malware Removal Software
Which Platform Do we Prefer:
Windows Platforms: (Windows 10, Windows 8, Windows 8.1, Windows 7, Windows XP and other Windows versions.)
Mac OS X
iOS, iPhone iPad
Android,
https://en.wikipedia.org/wiki/List_of_Microsoft_software