Top 10 Best Free Firewall Software 2020
|
When it comes to our computer security, we place a lot of importance on antivirus solutions and malware removal, but there's one more piece that we can't ignore: firewalls. Let's take a look at the top 10 Best free firewall Software 2020 for Windows 10/8/7 and XP, comparing them for ease of configuration, ease of use, and availability of features.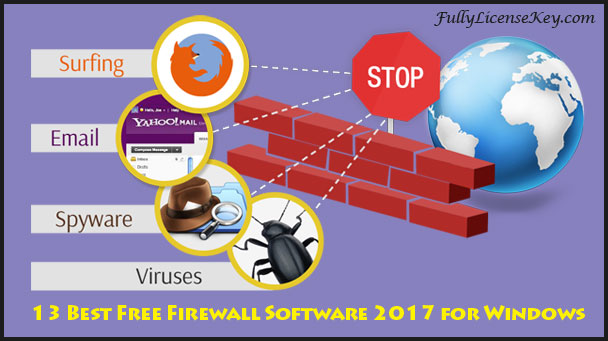 Top 13 Best Free Firewall Software 2020 for Windows:
AVS Firewall
AVS Firewall is firewall with a registry defender, a banner blocker, and parental control options. It does not have as many options as some of listed firewalls on this page, but the standard selections are still there.
The registry defender secures the registry. The parental control limits the list of websites that your PC can access. The anti-banner component blocks web page content including ads, flash banners, pop-ups and the like.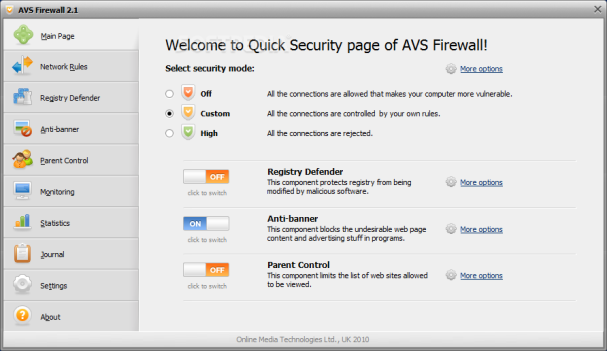 You can disable all three of these extra modules. It will be a good choice for you if you are looking for a good quality firewall.
Supported OS: Windows 10/ 8.1/ 8/ 7
Download and Know More About AVS FireWall:
http://onlinehelp.avs4you.com/AVS-Firewall/
Emsisoft internet Security (Online Armor)
Online Armor is a good free firewall for windows. But now online armor is no longer available for windows 10. Online armors new name is "Emsisoft internet Security".  Its not Free. You can buy Emsisoft Internet Security at $25 USD.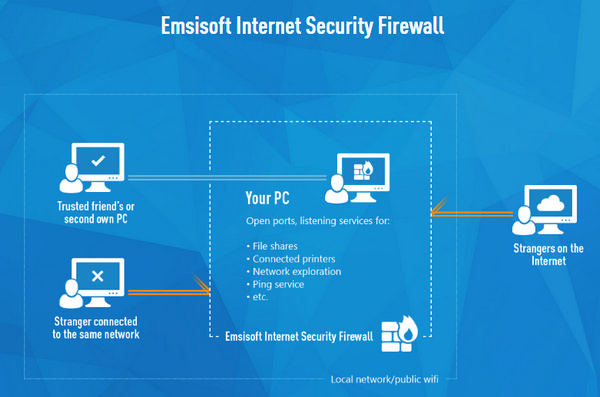 Emsisoft internet Security is a powerful firewall from Emsisoft that protects your PC from unwanted external access. Its give you not only a great firewall protection but also its a best anti malware software. Emsisoft has a goodwill for malware protection and malware removal.
It prevents harmful traffic from your PC. It also stops malicious programs of your PC, protects you during your online banking and transactions, and secure your identity.
The software is easy to install and manage. It does not slow down your PC performance. Its free version (online Armor) has slightly limited functions and no auto updates.
Emsisoft Internet Security Features:
Anti Malware
Firewall Protection
Internet Surfing Protection to stay safe at online
Safe Online Shopping
Behavior Blocker: This features can stop brand new malware and others threats that aren't yet known by signatures.
Ransomware Protection
Online Armor Supported OS: Windows 8.1/ 8/ 7 (32 bit and 64bit)
Emsisoft internet Security Supported OS: Windows 10/8/8.1/7 (32 and 64 bit)
Know About Emsisoft Internet Security + Download 30 Days Trial Version:
https://www.emsisoft.com/en/software/internetsecurity/
Private Firewall
Privatefirewall is a unique firewall that allows you to add extra security measures for your system. It allows you to prevent intrusions on the PC and protect it from information theft.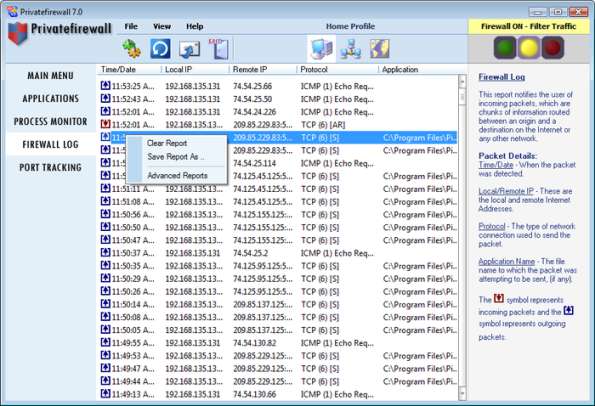 It has several different protection methods, which include a firewall, an app manager, a process monitor, port tracking and traffic filtering. You can also set different protection profiles for home, office and remote access.
Supported OS: Windows 10/ 8.1/ 8/ 7, Vista and XP
Download And Know More About Private Firewall:
https://www.privacyware.com/personal_firewall.html
TinyWall
TinyWall is a lightweight firewall that works with the built-in Windows Firewall. With no pop-ups or prompt to annoy you, it can be an ideal solution.
The installation package is small. Installation is fast, though there is no option for the user to select where to install it. After installation, it starts running in the background.
You can access all the features by clicking on the tray icon, as it has no 'main window' interface. You can also view your network activity, add app/process exceptions, and access the Firewall Setting. It is a very useful if you decide to stick with Windows' built-in security tool.
Supported OS: Windows 10/ 8.1/ 8/ 7
Download TinyWall and Know More:
Link: https://tinywall.pados.hu/download.php
Comodo Firewall
Comodo Firewall is a good choice for users seeking a quality firewall. Its the best no #1 Firewall in the world. It's robust and active HIPS, traffic monitoring feature, called "Defense+". It exceeds the desired security performance.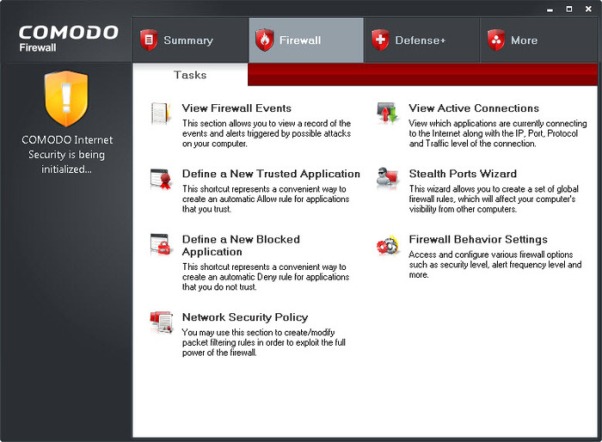 Comodo allows much control and adjustment. It runs on Windows 7 or later. It monitors your network, system and apps. It has a blacklist of more than two million bad apps.
It also connects to a cloud-based system that's updated fast as new threats detect, and that offers a white-list of reputable files and sites too.
You can Also use Comodo Internet Security Free or Pro version. It gives you both advanced firewall and anti malware protection.
Supported OS: Windows 10/ 8.1/ 8/ 7
Know MOre About Comodo Firewall (Free/Pro) and Download:
Link: https://www.comodo.com/home/internet-security/firewall.php
ZoneAlarm Free Firewall
ZoneAlarm is a best free firewall software which offers real-time protection. It makes ports invisible by putting them in stealth mode. It also stops inbound and outbound attacks and manages program access to the internet & network.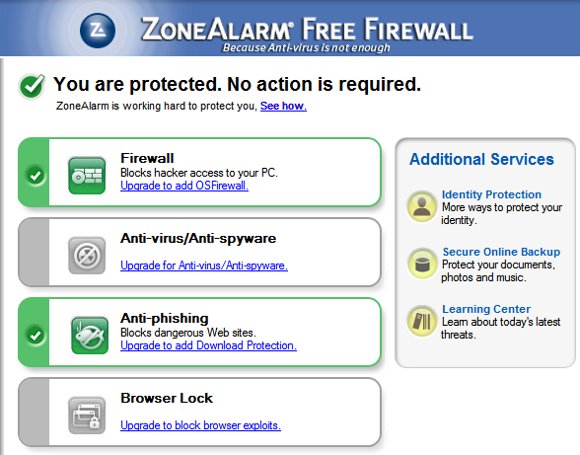 It is one of the most popular firewall. It has all the features to be the best firewall replacement for the default Microsoft Windows Firewall.
ZoneAlarm Firewall gives you basic firewall protection and Advanced Identity Protection. Its free firewall also give you Online Backup to keep your data safe.
If you want to get Two way firewall, full antivirus and anti malware protection, then you need to upgrade to ZoneAlarm Pro Firewall.
Supported OS: Windows 10/ 8.1/ 8/ 7
Know MOre about ZoneAlarm Firewall and Download:
http://www.zonealarm.com/software/free-firewall/
Windows Firewall
Windows Firewall is a built-in and free firewall nowadays that is available in every Microsoft Windows products. It blocks incoming traffics same as a third-party firewall. Its the best light weight free firewall program for all versions of windows. you don't need another firewall software, if you update your windows regularly.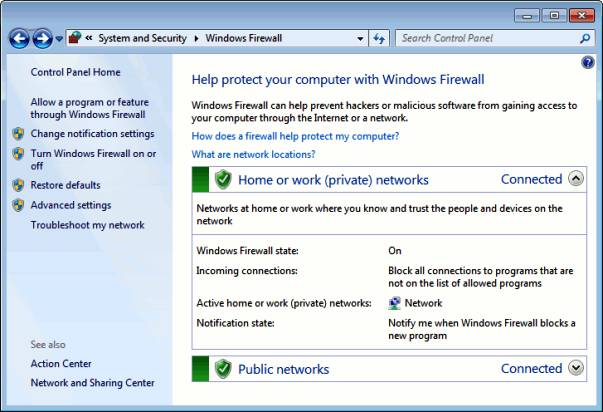 Third-party firewalls may pop up more often, informing that they're running, but this firewall constantly doing its task in the background. You disable it or install any third-party firewall if you want.
You can find it in the Control Panel. When a program wants to receive incoming traffic, it will create a rule or pop up a dialog for permission. If all you want is to block traffics, the Windows firewall will be the best. It is the best and widely used firewall as it is the best firewall. If you keep it up to date you we ensure you will be 100% satisfied.
Supported OS:Windows 10/ 8.1/ 8/ 7
Download : Windows Firewall is a built in Firewall in windows. You need to just update your windows or windows Firewall to keep your pc safe.
Go to Control Panel > System and Security > Windows Firewall
Here you can turn on or off windows firewall, need admin password also.
Know More about Windows Security Tips form microsoft.
OpenDNS
OpenDNS is the easiest way to make your Internet safer, faster and more reliable. It can be protected any device on your network, which is useful in today's hyper-connected homes and businesses.
You will protect every device in your home, instantly. You can apply to every device such as laptops, Smartphone, tablets, DVRs, game consoles, TVs, which is connected to the internet. You will get the world's leading DNS service. Let's review the features
OpenDNS features:
Get Easier way to make your internet security.
Get Faster, more reliable home Internet
Get Built-in fraud and phishing protection
Enjoy Parental controls that protect every device in your home, instantly as you want.
Get Customizable filtering and security.
Price: is free
Download OpenDNS and know more
360 Total Security
360 Total Security is the simple and powerful antivirus that offers a unified solution for PC security and utility. You can download now the best optimization tools and total protection against virus, malware and other emerging online threats and much more.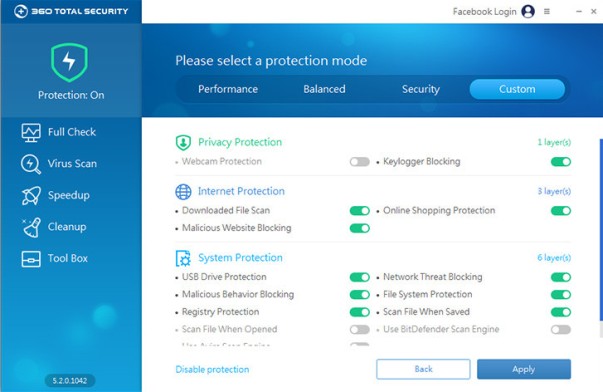 It brings your computer to a new level of protection. You will get the firewall controls network traffic from your computer as you want. It is a committed to provide a powerful and user-friendly also attractive product.
You will get the visualization of network activity on a clear graph; users can view the application bandwidth usage and the hosts which it communicates and you will selectively block the application as you want. Let's review the features
360 Total Security features:
Get protection from Antivirus & Anti-malware
Get Secure online shopping
Keep Privacy Protection Webcam Protection Key logger Blocking Ransomware Blocking
Enjoy System Protection such as USB Drive Protection, Network Threat, Blocking Malicious Behavior, Blocking File System Protection, Registry Protection and much more.
Get firewall controls network traffic
Get the visualization of network activity on a clear graph
View the application bandwidth usage
Easy to selectively block the application as you want
Price: free
More About 360 Total Security and Download here
Roboscan
Roboscan Internet Security is the best for anti-malware program that keep protecting your computers from outside online threats.You will get the internet facilitates the sharing of helpful files and information as you need. You can share your files and information through online without any risk. You will get a Dual Engine security system. As a result, you will get a Multi-Layer filtration for more thorough detection and deletion of online threats. Let's review the features
Roboscan features at a glance:
Get the Complete protection with Multi-Layered Detection System
Easy to Catch even known and unknown threats with Proactive Detection
Firewall and Self Protection Mode for shielding PC system.
Get Real-time Scan
Proactive Detection Technology : Block even unknown threats
Enjoy Self-protection
Enjoy PC Tune-up
By Protecting personal information
Enjoy Quarantine and Restore Files
Easiest way to the Check System Vulnerabilities
Price is free
Download Roboscan and know more
Anti NetCut3
Anti NetCut3 protects your network connection from NetCut, Arp Spoofer or any other ARP spoofing tools. You will get an Automatic start with windows. It is easy to use. It will be working in system tray all the time. You can display and log who is trying to cut your connection.
You can safe from internet connection or sniff your information while working on shared wired and wireless networks. Let's review the features
Anti NetCut3 features:
Get protect your network connection from NetCut, Arp Spoofer etc.
Get also protect from any other ARP spoofing tools.
Get an Automatic start with windows
By working in system tray all the time.
Able to see display and log who is trying to cut your connection
Price: free
Download Anti NetCut3 and know more
Outpost Firewall Pro / Free
Outpost Firewall by Agnitum software technology is a good choice for those who want high quality firewall. Its standard packet and app filtering secure your PC from unwanted traffics.
It lets you see network activity in real time. Which will help you define harmful traffics and close them. It also secures your privacy on the Internet, keeps browser protected from Internet dangers. It is a lite software with low impact on your PC.
Supported OS:
Windows XP / Vista / Windows 7 / Windows 8 / Windows 10 32 bit / Windows 10 64-bit
Know More About OutPost Firewall (Free and Pro):
https://en.wikipedia.org/wiki/Outpost_Firewall_Pro
PeerBlock
PeerBlock Firewall is a good firewall that protect traffic from IP addresses that you don't trust. It blocks incoming and outgoing traffics to IP addresses that are on blacklists over the Internet.
When you install it, it asks you to choose the type of websites you want to block. Such as adware networks, spyware, known phishing websites and agencies such as anti-P2P groups. It updates its block lists on a daily basis to keep those IP addresses away from your PC.
Supported OS: Windows 10/ 8.1/ 8/ 7
Know More About PeerBlock
https://en.wikipedia.org/wiki/PeerBlock
Ashampoo FireWall
The brand-new AshampooFireWall is unique. Its installation wizard guides you throughout the simple set-up process.
The use in Easy Mode is a quite Childs play – no need for technical knowledge, everything is clearly explained. It is also very compact.
Even with its four security tools, it is a tiny program which uses minimum memory and resources. You will get a strong protection without overloading your system.
Supported OS: Windows XP
Thanks for checking out our list of top 10 free firewall program of 2020. If you find out any great firewall software for windows please give us your feedback. you can also get comparison of firewall wikipedia. We will try to review and update this list based on your feedbacks. Your feedback matters to us!
Summary
Reviewer
Review Date
Reviewed Item
Top 10 Best Free Firewall Software 2020
Author Rating