DesignEvo: Best Free Online Logo Design Maker
|
DesignEvo is a very easy-to-use online logo maker that designed for users who have a logo design need but don't have much knowledge and skill in graphic design. It comes with a very intuitive interface that helps you create custom logos in an extremelysimple way. While working with DesignEvo, you'll find that design a pro-looking logo is a fun and comfortable experience.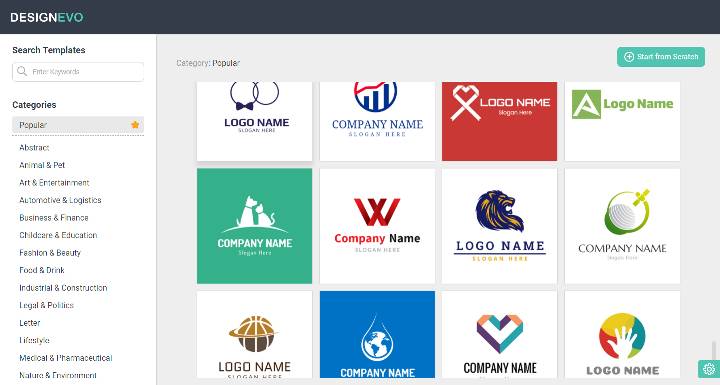 DesignEvo offers over 3,000 ready-made logo templates to help you build your brand. They are arranged in various categories, such as Fashion, Education, Art, Technology, Nature, Game and more. Browse through these professionally designed templates or type some key words to find the one you want to start off your logo designing. All of them are editable, and with so many customization tools DesignEvo offered, you can easily get them a unique looking.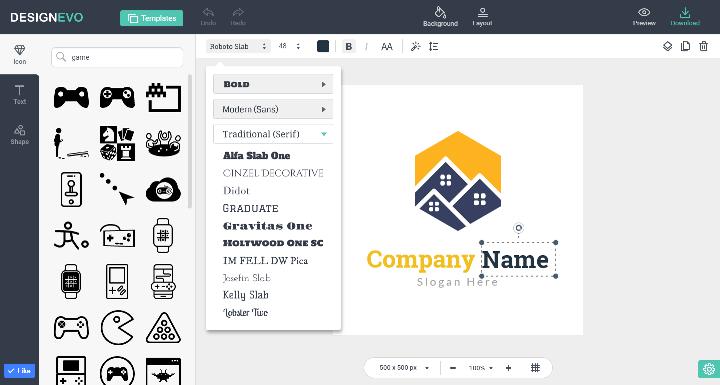 If you'd like to make a logo on your own, you can click Start from Scratch to get a blank canvas where you can let your creativity go wild. There are millions of logo icons and over hundreds of stylish text fonts freely available. Simply enter some keywords, then umpteen related icons pop up for your free selection. Choose a suitable icon, add some logo texts and make adjustments as you like to meet your needs. Change color, size, layers, effects, spacing, layout with your creative ideas, you can easily make your creation stands out.
One highlighted feature of DesignEvo is its Preview function. After finishing the logo, you can use preview to see your logo shown on some real-life objects, such as T-shirt, business card, letterhead, wall, website page, etc. If you're satisfied with your logo, you can get your logo downloaded at no cost. DesignEvo allows unlimited high definition logo downloads with three image formats- JPN, PNG and PNG with transparent background.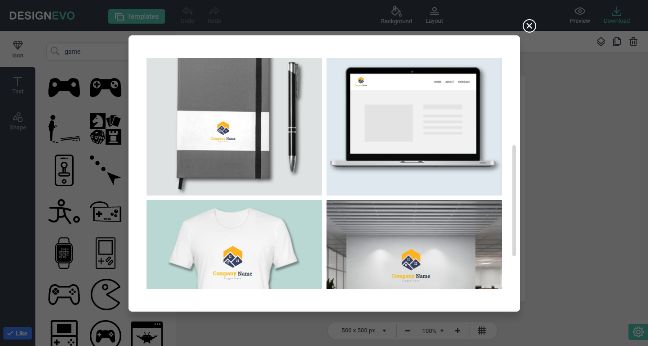 In all, DesignEvo gives all features that needed for logo design. If you're currently needing a logo design, DesignEvois unquestionably worth giving a try.