IM Magic Partition Resizer Review :Outstanding Features Added v3.0
|
IM Magic Partition Resizer Review: IM-Magic Inc Has Released IM-Magic Partition Resizer V 3.0.0: In order to meet more needs of customers, IM-Magic Inc. has recently upgraded one of its famous products, IM-Magic Partition Resizer, into a new edition V 3.0.0, which has been designed with far more outstanding features in comparison with the last version.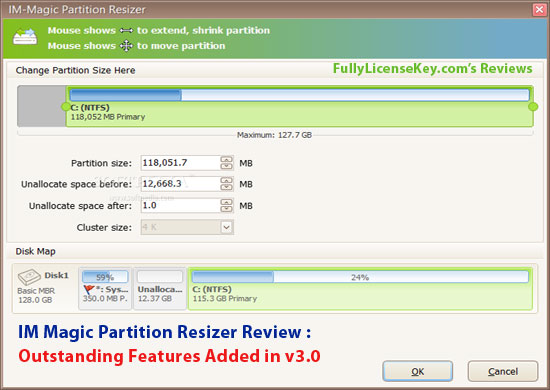 Hence, if you are also one of the old users of IM-Magic Partition Reiszer or wondering to download this software to manage your computer partitions perfectly, go read more detailed upgrading information and try this new software version from below.
IM Magic Partition Resizer Review: Verion 3.0.0 Overview
Honestly, no matter whether you are a IM-Magic Partition Resizer user before, from its official site, you can easily know that this IM-Magic Partition Resizer software is a reliable partition managing program which often helps shrink, extend and resize partition space, move, format, delete, copy, wipe or manage all your computer internal hard disk partitions orderly and safely.♥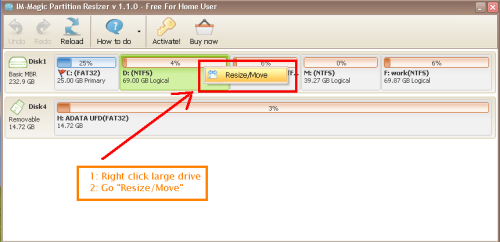 And now, with the latest released 3.0.0 version, you are also able to easily enjoy far more useful features to manage your computer partitions without data loss troubles.
Get Also: Acronis True Image 2016 Activation Key Free for 1 Year.
Some new outstanding Key features of IM-Magic Partition Resizer Verion 3.0.0:
1). Delete All Partitions
With the previous versions, you are always allowed to right click only one partition and delete it at a time. And, with this new version, you can delete all partitions at the same time easily.
2). Defragment
This is a completely new function for this new version. Defragment your partition to free up more partition space and make full use of it.
3). Check Partitions
This is another new function which will help you found partition errors, fix the found bad sectors and more partition problems with ease.
4). Change drive letter or change partition label
No matter whether you want to name your desired partitions with letters or other meaningful worlds, this software could be a satisfying choice. It is also another new attractive function.
5). Explore partitions
Before you decide to delete, wipe, remove, copy or do other changes to the selected computer hard drive partitions, in case of losing partition files or other troubles, you can use this new function to

double check the partition videos, songs, documents

and files carefully.
6). Convert to primary partition or convert to FAT32
If you do have encounter a RAW file system partition errors or needs to convert partition file system type, also use this new version to do that with simple clicks.
7). View properties
In case of making any unwanted partition problems before converting partition file type, also choose its new "View Properties" to check all properties well in advance.
Overall, this new 3.0.0 version has been developed with many new thoughtful and useful features for all users. You can easily go visit its official site, download the new version and explore its new feature by yourselves.
IM-Magic Partition Resizer v3.0.0 Download From here
Visit here to know more details:
http://www.resize-c.com/news/resizer-v3-with-new-functions-added.html
Hopefully you get the details about IM Magic Partition Resizer Review. Let's free download the software from above download link to use this free full version software. you can also try IM Magic Partition Resizer Pro Version for more feathers. Make a comment how about this disk partition software that you use.