How to Protect Against Ransomware Malware
|
Ransomware can do harm to your computer. It is a annoying thing.  You can find various types of ransomware. You need to remove ransomware malware from your computer to keep it safe. Ransomware can attack any computer. Ransomware can prevent you from accessing windows. Moreover, it can stop certain Apps.  It can force you to pay for accessing your files. But it has no guaranty to have your files back. In this article, I am going to discuss some important tips to protect your computer How to Protect Against Ransomware? Hope, it will help you to keep your computer safe.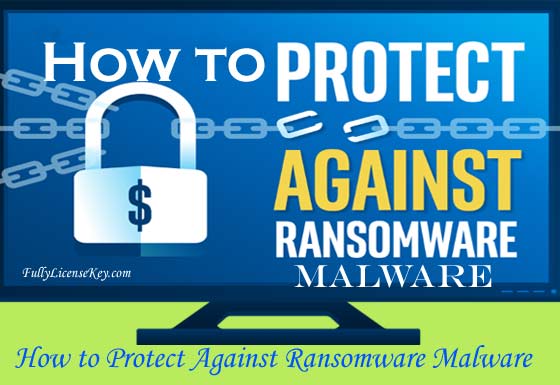 Keep backup:
Backup is the most important thing to do to protect your files and data of your computer. If you do this, you can restore your data. Ransomware can attack any files of your computer. So, you need a good cloud backup strategy. Besides, a long storage is needed.
Install an anti-malware solution:
You must install an best anti malware software on your computer. This software will help you to remove and protect all virus, malwares from your PC. You need to choose a product that has a strong capacity and best technology. Try to buy the premium version. It is better than the trial version and gives you full time protection.
Keep your operating system updated:
Some exploit kits are very vulnerabilities in your operating system. Because these exploit kits can install ransomeware. Keep your windows updated. Microsoft releases some security updates. You need to reboot your computer during the installation.
Keep all software updated
Ransomware can also attack through your software such as Java, Adobe Photoshop, Flash player, Mozila Firefox and others. There are some programs that can monitor your all other programs to make them updated. Read Also: Top 10 best free driver updater 2017.
Carefully downloads something from internet
You must keep it in mind that free downloads can contains ransomware. So, try to download something from the safe sites. The trusted sites will give you safe signals.
How to Protect Against Ransomware?
Use a strong password
Make sure that you are using the strong passwords. It will protect your computer from unauthorized access. For this step, hackers cannot hack your password for their bad purpose.
Disable windows power sell and script host
Try to disable your windows power sell. Because, power sell is also used to install ransomeware. You also need to disable windows script host.  For disabling script host, you can read the article of Microsoft "how to disable windows script host."
What can you do if ransomware is attacked already. Then Read Also: How to decrypt files encrypted ransomware malware.
You can feel that it needs many steps to make protection for your computer. Do not worry about ransomware. But these steps can save your computer from undesirable problems and make your computer life long lasting. You can also setup some software restriction policies. It is a method to create various restricted policies to protect your computer. In this system, you can find some lock guide too. So, follow the instructions and enjoy your day.