Acethinker Video Master License Key Giveaway & Review
|
Online videos are some of the top trendings to watch nowadays. They are viewed for entertainment, business purposes, and personal references. However, there are videos that we can't watch easily when its format is not compatible with the device. That's why we need to have a tool that will help us convert a specific video file to view it.  One of the best tools out in the market is what we call the AceThinker Video Master.
Get Acethinker Video Master License key for free with the Christmas Giveaway provided by acethinker corporation. Just follow the instruction in this post to get the software's full version with 1 year serial key.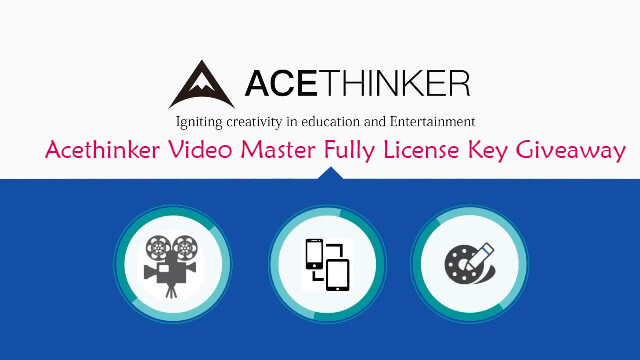 This tool will help you change the video file format easily so that you can enjoy watching it later. Not only the video format itself, but it also helps you find your desired resolution or convert it directly to your device model. Also, this tool can be used to extract sound from a video. That is, if you want to save an audio clip or sound, we can do so by converting the video into an audio file. It might sound a bit confusing, but no worries because below are its features that will help you to understand how AceThinker Video Master does its magic.
Acethinker Video Master Main Key Features:
Acethinker Video Master has four main features. They are called the Convert, Split Screen, MV, and Record features. Each feature will help you enhance the output of your video or audio.
Convert
The Convert feature of AceThinker Video Master allows you to convert into MP4, MKV, AVI, WMV, and others. Moreso, you can adjust the resolution of the video with HD1080P, HD720P, 4K quality and more.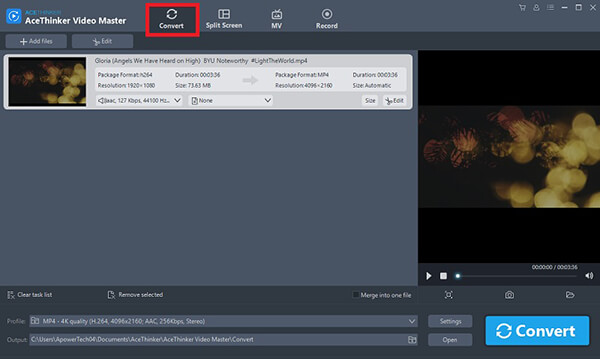 On the other hand, AceThinker video master also lets you extract an audio sound and convert it to MP3, MP2, WMA, and others. And, with a High, Medium, and Low-quality audio that you can choose. You will be able as well to convert the video with your device model. AceThinker Video Master lets you convert for your Apple, Samsung, HTC, Blackberry, and many others.
Split Screen
Aside from the "Convert" feature, Video Master has its "Split Screen" feature. This is best to use if you like to emphasize a before and after the video. Because it has 19 different splits types that you can choose from, you can actually edit four different converted videos. In addition, it has thirty different filters. From these filters, you can actually change the effects of the video/s.
This feature also gives you an option to make the audio fade in and out. You are also able to add music to your edited video/s. Lastly, AceThinker Video Master lets you save the video to your selected folder.
 MV
Another best feature of AceThinker Video Master is its MV feature. This feature will enable you to make slideshows. You can select as many pictures as you want to make your movie montage. This feature has 18 themes that help you choose the best effect suitable for your movie.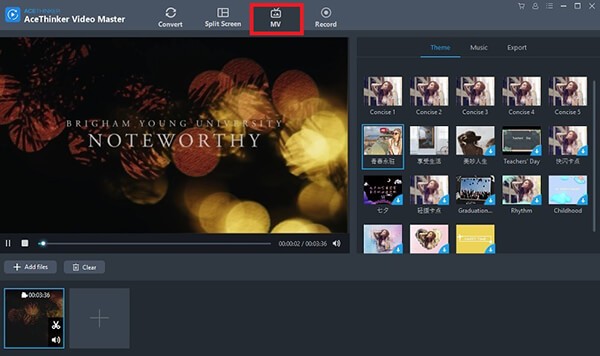 It also lets you add music to add life to your video. You can also select the music to be on a fade in and out mode. Just the same, this feature also allows you to save your movie output on your selected file folder.
 Record
Another promising feature of AceThinker Video Master is its "Record" feature. This feature enables you to record all that is happening on your desktop screen. It gives you an option to select a specific region or cover the whole screen. It also enables you to record anything around your PC mouse or use your web camera for your video.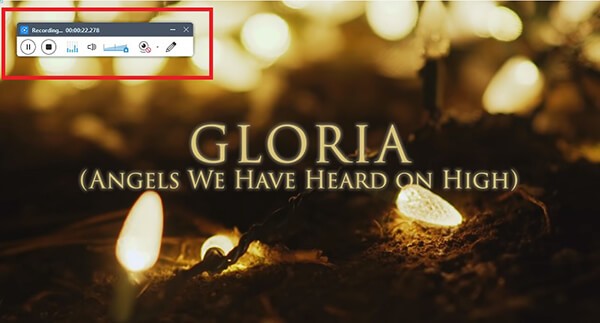 You can also record audio such as MP3, AAC, OGG, WMA, and the like. Besides, you can record anything that comes from system sound, microphone, and both at the same time with this feature.
Acethinker Video Master License Key Free Full Version Giveaway:
And, wait, there's more, in celebration of Christmas and New Year, Acethinker is holding an unlimited giveaway for Acethinker Video Master for the Windows version.
Step 1: Visit the giveaway page https://acethinker.com/christmas-campaign to get a license for free.
And so, what are you waiting for? Grab yours now and have a happy free license Christmas and a prosperous New Year from AceThinker Video Master.
Resources:
https://acethinker.com/video-convert-master
https://en.wikipedia.org/wiki/Comparison_of_video_editing_software
Hopefully you got the acethinker video master free serial key. if you get any problem to get its full version, then please make a comment.
Summary
Reviewer
Review Date
Reviewed Item
Acethinker Video Master License Key Giveaway & Review
Author Rating