AOMEI Backupper 3.5 Review -Best Free Backup Utility
|
Its good to keep backup your important files rather than lost data recovery, because data recovery software cannot recover all of your lost files always. AOMEI Backupper is a good automated backup software for your windows PC. Let us know more about AOMEI Backupper Review and you can also Free Download it from here.
Why need third-party backup software?
A third-party Windows backup software is necessary because Windows built-in backup program has some limits. As a Windows user, I used from Windows XP to the latest Windows 10. The backup program in every version are different. They are discontinuous. After upgrading operating system, users have to spend time to adapt new backup program.
On the other side, Windows in-built backup software has some disadvantages. Take Windows 7's backup tool as an example. If you create a system image file, you only can restore it in the normal system. In other words, if you can't enter into the system, you can't do nothing. Generally speaking, third-party backup software break through these limitations. What's more, third-party Windows backup software provides more functions and more choices compare to Windows one.
Following we will focus on a full-scale Windows backup tool – AOMEI Backupper.
AOMEI Backupper Review and Free Download v3.5:
Overview of AOMEI Backupper:
AOMEI Backupper developed by AOMEI Technology. When talking about AOMEI, I'd like to mention its other products – Windows disk management alternative – AOMEI Partition Assistant, AOMEI OneKey Recovery, AOMEI PXE Boot, AOMEI PE Builder, etc. Next, I will tell you more information about it.
Now AOMEI Backupper only designed for Windows OS. The latest version is 3.5. It has several editions, two freeware.
Best Free backup software – AOMEI Backupper Standard Edition is used by most people. Another freeware AOMEI Backupper Standard for Win 7 Edition does not support Windows XP and Windows Vista.
AOMEI Backupper Professional is used by most people in paid editions for pc backup.
Features of AOMEI Backupper:
As a backup application, backup & restore are main features of AOMEI Backupper. To learn about AOMEI Backupper's features, there are two ways: one is trying it by yourself, another one is read the tutorials and help documents on its official website. Here, I will explain it to you with screenshots.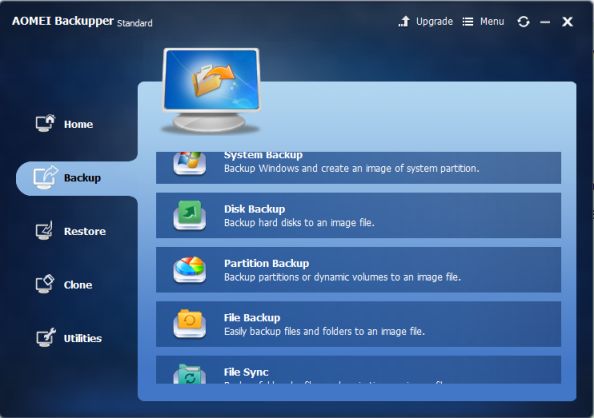 Backup: system backup, disk backup, partition backup, file backup and file sync. It supports many storage devices, such as backup to NAS. Backup task can be committed by command line. 3.5 added new feature: event-triggered scheduling backups. Even free edition has this feature, while some similar backup software are paid to use, this is an advantage of AOMEI Backupper.
About restoring: Every backup has a corresponding restore. Besides these, AOMEI Backupper supports universal restore, restore from bootable disc, selective files restore and so on.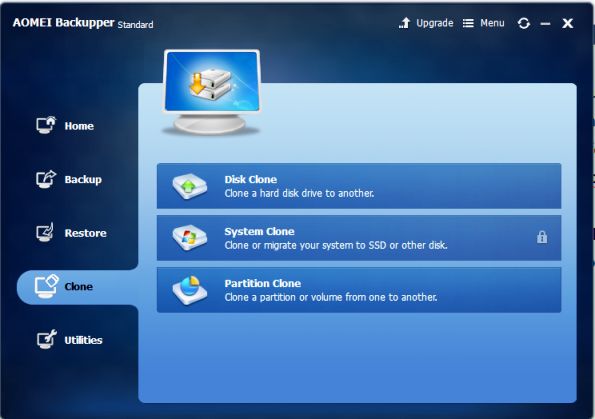 AOMEI Backupper is also a hard drive clone software: disk clone, system clone and partition clone. Windows has not these functions.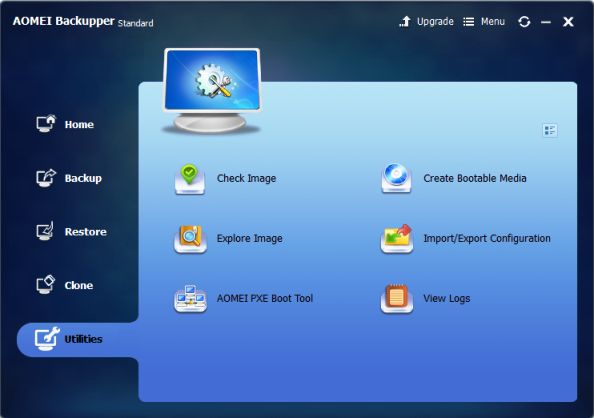 It integrates many practical utilities: check image, explore image, import/export configuration, AOMEI PXE Boot Tool, View logs, Create bootable media. Paid edition has more utilities. You see, AOMEI PE Builder and AOMEI PXE Boot are deriving from AOMEI Backupper indeed.
Read Also: Backup4all Lite Registration Key Free
Supported Operating System:
Windows XP
Windows 7 (32/64 bit)
Windows 8/8.1 (32 bit and 64 bit) and
Windows 10 (both 32bit and 64bit version)
Summary
AOMEI Backupper is an excellent backup software. To learn more about it, you can watch videos from youtube and read reviews in famous software website. What's more important, you should try it by yourself.
Downloads:
AOMEI Backupper Professional:
http://www.backup-utility.com/professional.html
AOMEI Backupper Standard (Free Version):
http://www.backup-utility.com/download.html