Top 10 Best Free Game Booster 2021 for Windows 10/8/8.1/7 PC
|
You must be looking for the best game booster software and it is a little bit tough to find out the best software so that after reviewing a lot we made a list of Top 10 free game booster software 2021 that supports in windows 10/8.1/8/7 OS. Basically, game optimizer software helps us to start a game without lagging.
Game speed-up software works by normally stop running other background processes while playing games, boosting ram, opening in a sandbox, defragging games, disabling the unnecessary software. Moreover, It works on the graphics card to boost your graphics card also. Overall, it works to ensure your superior gaming performance. So So let's know more about it.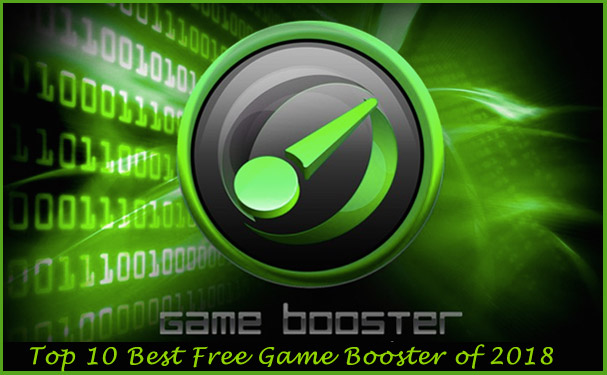 10 Best Game Booster Software Free for Windows 10/8/8.1/7 Computer 2021:
#1. Razer Game Booster
Razer Game Booster is one of the best-performed game booster programs. It manages all the applications on your system. Because It can kill all the unnecessary processes while going to start playing games. Moreover, This software free up your RAM that needs to run the game properly. It automatically boosts when you are going to start a game.
For quick loading, it defrags the game folder. You can see the FPS rate on the corner while playing games and it will help you to know the feedback instantly. Because This software is also very helpful for low gaming experienced PC.
Price: Free
Available Platform: Windows 10 / 8/8.1/7/Vista/XP OS.
Download & Know More About:>> Razer Game Booster
#2. Wise Game Boosters
Wise Game Booster is one of the best simple and more effective game booster applications. It is designed to enhance the best gaming experience. because It may change your system resources to focus deeply on your game. Moreover, It ends unnecessary programs and stops irrelevant services. It also boosts PC performance.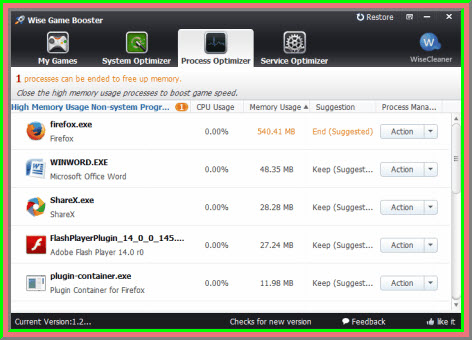 You can add your games to my games on wise game booster so that you have no need to find out the game each time and it will automatically boost your PC while you run games from my games. It improves PC running speed and system stability.
Price: Free
Available Platform: Windows 8 / 8.1, Windows 7, Windows 10 (32bit & 64bit edition)
Download & Know More About>> Wise Game Boosters
#3. Game Fire 6
Game Fire is one of the most powerful best PC game booster software and they declared are best on Earth. It boosts PC performance also to achieve the best gaming experience. It increases the running of games FPS and optimizes your PC by turning off extra resource-taking software.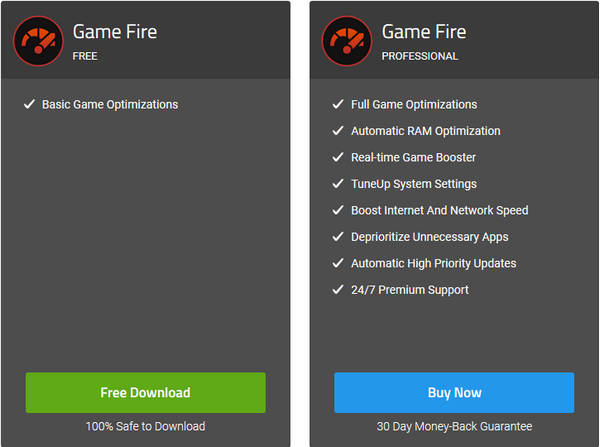 You can do everything with just one click. It utilizes your full computer resources like CPU, Ram and boosts them in real-time. It never was done overclocking to do risky optimization. It automatically updates and will enjoy premium support.
Price: 24.95$ but Free version Also available.
Available Platform: Windows 8.1/ 8/ 7/ 10 (both 32bit & 64bit)
Visit and Know More About Game Fire>> Download HERE
4. MSI Afterburner (With GPU Overclocking & Control Fan Speed)
MSI Afterburner is the best free software that can be used as a game to speed up the program for windows 10. It gives you improves your gaming experience by giving you access to overclocking options. More features of this program include:
CPU and GPU overclocking
video recording,
benchmarking,
monitoring, and customizing your fan speed.
improve performances is its hardware monitor system
monitor the FPS of your game
Even if you do not have an MSI GPU, this application can be utilized by other GPU brands.
Supported OS: Windows 10, Windows 8, and Windows 7
Price: Totally Free
Download MSI Afterburner here.
#5. SpeedItUp Extreme
SpeedUpExtreme is a free application designed completely to increase your PC performance and speed up to 300%. It makes applications and games faster and disables unnecessary background processes while playing games.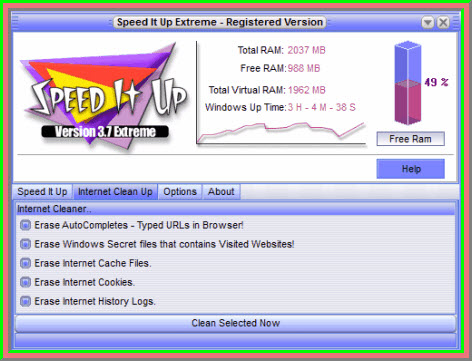 It is not only limited to applications and games. It also improves speed while playing videos and music.
Price: Free
Available Platform: All windows OS, Windows 10/ 8/ 7/ Vista/XP (for all both 32bit & 64bit OS).
Download & Know More About>> SpeedItUp Extreme
6. WTFast
WTFast is a unique game booster software for windows 10 as it focuses specifically on improving the internet speed of online games. WTFast focuses on boosting Internet speed for online games. WTFast uses the private global network with no speed limit that helps as highways between your PC and the game server.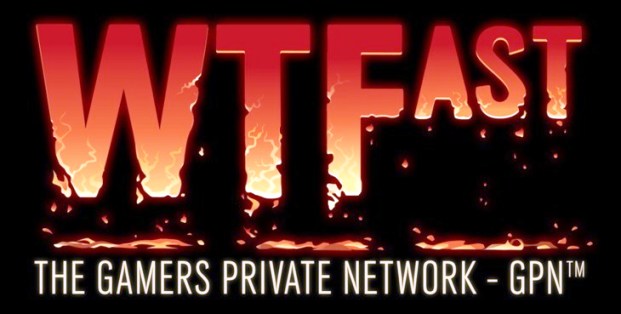 The disadvantage of this Game speed-up software is it's costly and no free version is available. A free trial is also available.
Supported OS: Windows 10, Windows 8, and Windows 7
Price: $9.99 per month. Free Trial available.
Download WTFast Game Booster Here
#7. ToolWiz Game Boost
ToolWiz optimizes your PC to run any kind of game smoother. It improves more performance by defragmenting. Moreover, It also improves processor performance. It temporary shutting down all unneeded threads, programs, and services.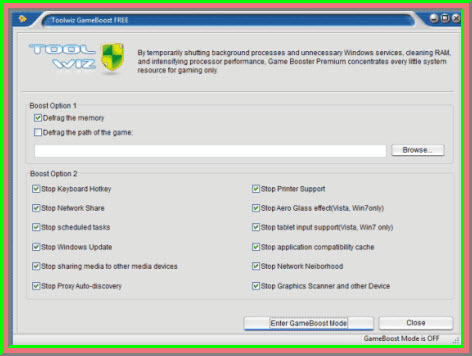 Toolwiz enhances your system for enjoying the pure gaming experience. It also gives a suggestion to update outdated drivers. Moreover, It is one of the best most effective software and anyone can use it because it's interface is more user-friendly.
Price: Free
Available Platform: Windows 7 / 8.1/Vista / 7/ 8 (32bit & 64bit OS)
Download & Know More About>> ToolWiz Game Boost
#8. Mz Game Accelerator
MZ accelerator is a one-click game accelerator software. You have no need to restart your computer to start working. Additionally, It has the ability to work instantly and run a game faster.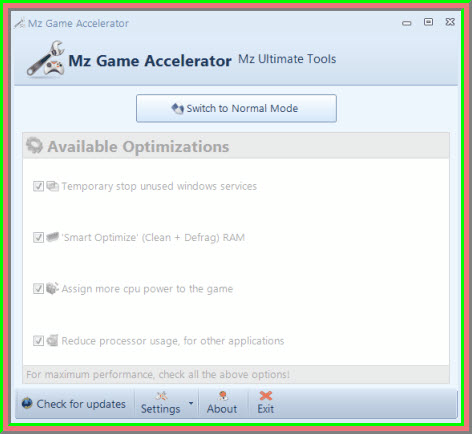 It temporarily disables all the unnecessary services, changes system settings, and registry.
Price: Free
Available Platform: N/A
Download & Know More About>> Mz Game Accelerator
#9. CacheBooster
CacheBooster is one of the most pretty and safe booster applications. Basically, it boosts cache from the system. You can use this application for multiple purposes including enjoying the best gaming performance. Moreover, It tweaks your hard disk caching for performance.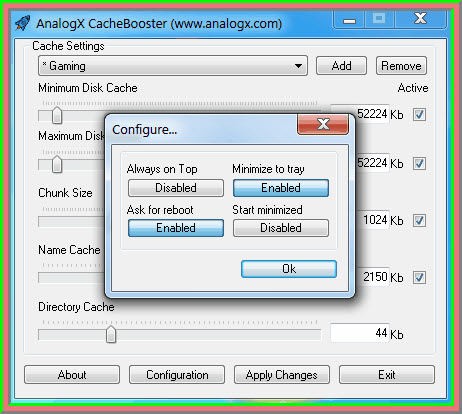 To know more about it please follow the linked page given below. This software is lightweight and takes the little impact on system resource also. It is available in English and Japanese language.
Price: Free
Available Platform: N/A
Download & Know More About>> CacheBooster
#10. iGame Booster
It is another best free game speed-up tool. It stops unwanted system service, unnecessary background processes and optimizes your Windows system.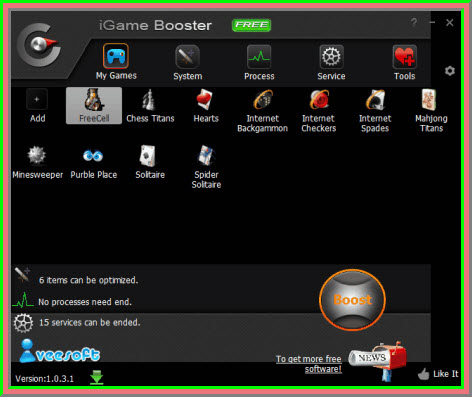 It makes a list of all the processes, threads, and services to make a reserve of resources to run your game.
Price: Free
Available Platform: Windows 7
Download & Know More About>> iGame Booster
#11. 360 Game Booster:
360 Game Booster, a brand new feature comes within 360 Total Security 2019. It improves windows performance and reduces PC system resource load. It further improves your gaming experience.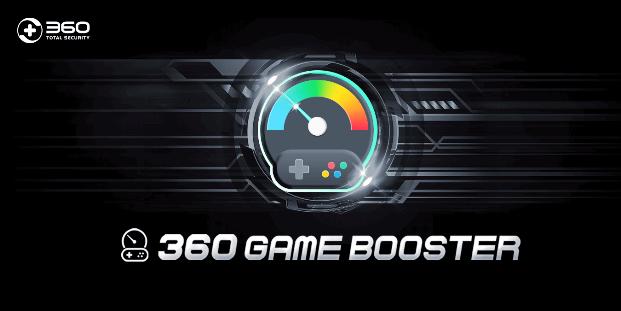 Get the Best gaming experience: 360 Game Booster optimizes your Windows PC for gaming. By managing and turning off unnecessary processes. Such as system helpers, and background tasks. while gaming, this feature releases the RAM required for intense game sessions.
Automatically boost PC for gaming: When you launch a PC game, 360 Game Booster is automatically activated to boost your PC speed. After you finish gaming, this optimizer will auto-restore your PC to the state it was before.
#11. Actual Booster
It works to optimize your computer and makes it faster. Normally it did optimize by changing the priority of the applications/games. It is a little bit tricky. It is completely standalone and never depends on the .NET framework, Java runtime, or any other third party packages.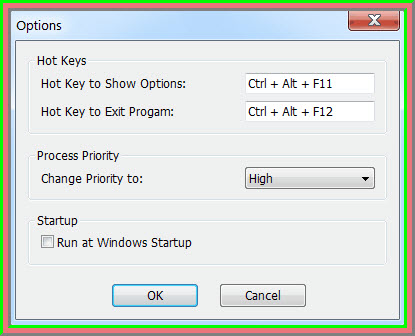 You can set hotkeys for exiting the program. You can also manually select the priority level. It starts automatically when windows start. It takes the small impact on memory and takes little disk space to install. If you want, you can enjoy the portable version.
Price: Free
Available Platform: Windows 95, 98, Me, NT 4.0, 2000, XP, Server 2003, Vista, Server 2008 both x86 and x64 bit OS.
Download & Know More About>> Actual Booster
Final words & Tip:
Turn your antivirus Gamer mode on to turn off system resources that are used by your antivirus or Internet security. So, If you are not using any antivirus, then windows defender is good. It doesn't slow down your PC. Thanks for reading and staying with us. If you need more any kind of suggestion, please reply in the comment section. Thanks again.
Summary
Reviewer
Review Date
Reviewed Item
Top 10 Best Game Booster for Windows 7/8/10/8 Free
Author Rating