iBoysoft File Protector License Key 1 Year Free Download
|
iBoysoft File Protector V2.0 one-year license always costs you USD$29.95, now the developer iBoysoft is giving out fullylicensekey.com readers 1-year free licenses. It has been tested professionally and we are assured that no viruses, Trojans, adware or malware contained. There is no need to complete any survey, offer or any other tasks, just follow the simple steps below to get the 1-yeari iBoysoft File Protector license key for free.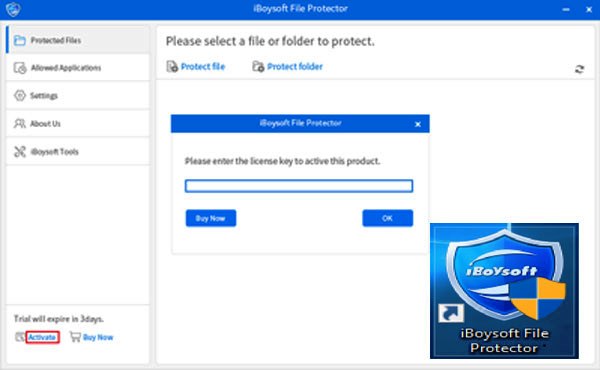 iBoysoft File Protector is a professional encryption software that you can trust to password protect your files, folders, and drives. It employs high-tech encrypted lockers that protect private information and secures sensitive data from leaks, theft, loss or virus attack.
Key features of iBoysoft File Protector:
Lock files/folders with one password:
iBoysoft File Protector helps us to lock our files and folders with only one password that only yourself can access the protected files and folders.
Three access methods:
This program encrypts your files/folders with three access methods: Deny delete access, Deny read access and Deny write access. It is highly recommended when sharing your computer with multiple users since it helps you to protect the privacy of your information from being viewed, written and deleted, folders.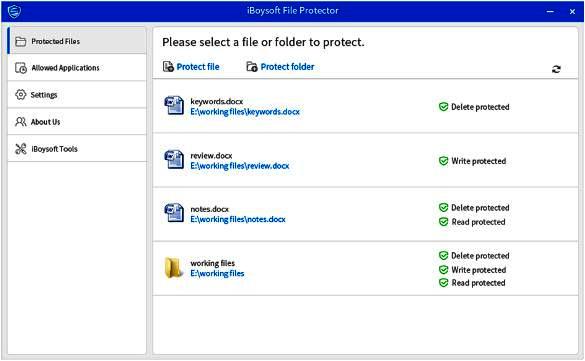 Allow specific application to access files:
Besides its ability to encrypt files and folders, iBoysoft File Protector also has a unique feature for managing application permissions. This function is definitely a convenient function as sometimes you want to some frequently-used applications to access protected files as usual. Thus, you don't need to remove and add files in protection over and over again.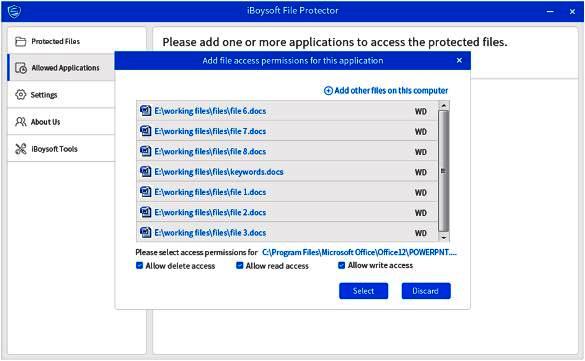 Protect files/folders from virus/ransomware:
This powerful folder lock software is able to protect file/folders from virus/ransomware. Even if your computer is infected by virus, ransomware or malicious attack, your data will still keep safe.
High compatibility:
iBoysoft File Protector also supports almost all Windows operating system like Windows 10/7/8 and Windows Server 2008 R2/2012/2016. Hard drive, external hard drive, USB drive, SD card, CF card, memory card, SanDisk card, memory stick, and other storage devices are supported.
How to get iBoysoft File Protector 1 Year License for Free Download?
iBoysoft File Protector one-year license always costs you $29.95, h Here you have a chance to get it for free. But the giveaway will last for 7 days. Please hurry up!
Step 1: Download iBoysoft File Protector
Step 2: Connect your computer to the Internet. (If you don't have Internet access, please contact support@iboysoft.com.)
Step 3: Click Activate button at the left bottom.
Step 4: Enter iBoysoft File Protector license key: 650EE690650FE6E8650FE684E476F345. (We suggest every customer copy and paste the license key from the order confirmation email.)
Step 5: Click OK.
Notice: when launching iBoysoft File Protector at the first time, you need to enter default password: 123456. After that, change the password on Settings window to prevent others from unauthorized access.
Terms & Conditions of this giveaway License Key:
This giveaway will expire on 14th, December.
No free tech support.
Free upgrade within 1 year.