How to Remove Shortcut Virus From USB Pendrive Memory Cards
|
Many people all over the world now facing shortcut virus problem and people are searching for the best solution also. From this article you can know How to Remove Shortcut Virus From USB and many other devices. The dangerous thing of this virus is that if you already have an antivirus installed on your computer then you can also face the problem. The virus normally create shortcuts of folders that you don't know and the process is automatically done without permission. It can be happened on your hard drive, memory cards, pendrive or any other external storage.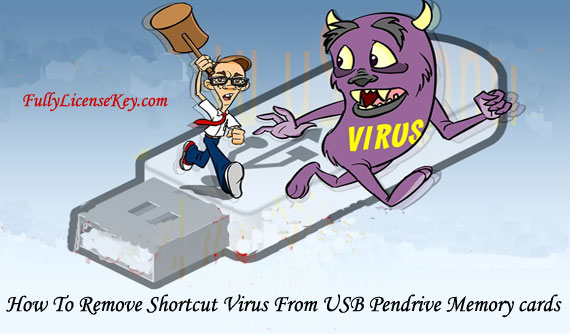 How To Remove Shortcut Virus From USB Pendrive Memory cards?
Here we are going to discuss three methods about how to Malwarebytes from any other external devices and USB Pendrive Memory cards.
Method 1:
Step 1: At first you need to connect your pendrive/ memory card/ USB or any other devices in your computer.
Step 2: Please download the software AutorunExterminator by clicking here.
Step 3: Now extract the file and double click on "AutorunExterminator".
Step 4: It will run and works in background. You can check it on notification bar and the icon is shown like cross icon.
Step 5: You are done.
Method 2:
Step 1:  At first open CMD as an administrator. For doing this please go to start>>Run>>type CMD and click enter.
Step 2:  Please copy the following code to command prompt.
ATTRIB -H -R -S /S /D G:\*.*
OR
ATTRIB G:\*.* /D /S -H -R -S
Please replace the 'G' with the drive letter.
Method 3:
You can download and use Malwarebytes Anti-malware software to solve the problem.
There are many other methods to do it. Over online there are lots of tools that may also help you to remove shortcut virus. Please use them properly on your own risk.
Thanks for reading and staying with us. Stay tuned for more update.