Duplicate Photo Cleaner Android App: Duplicate Photos Fixer Free Download
|
Duplicate Photo Cleaner Android App: Duplicate Photos Fixer Free: Manage gallery of your smartphone with zero duplicates: If your device has an amazing camera and you use it every time you click photos, then after a period of time you will realize that your device is overloaded with photos or we can say most of the memory on your device is occupied by photos. When you share photos with friends or when you download them more the then once these photos start getting duplicated. It becomes very difficult to get rid of duplicate photos because if you will go to delete them manually then it will take hours and hours to search each folder and to delete duplicates from them. Understanding the fact that removal of duplicate photos can spare lots of memory, Systweak software has developed an application (Duplicate Photos fixer) which can clear duplicates from your device in just few minutes. Let us find out how this application works.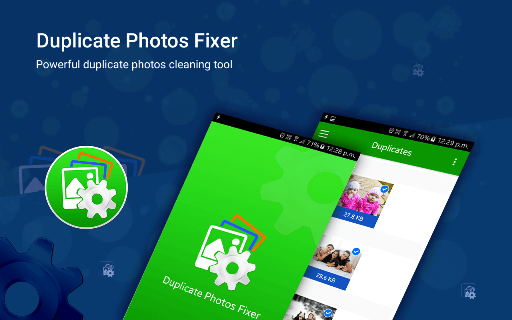 Duplicate Photo Cleaner App for Android Free Download & Duplicate Photos Fixer How To Use:
1. you can download the application for free from the play store here is the link.
https://play.google.com/store/apps/details?id=com.systweak.duplicatephotofixer
once you are done with the download and install you will see the home screen of the application.
Here you will find options to scan camera images, Full scan or select folder. You can choose any one of these options as per your choice. However, if you are scanning your device for the first time then full scan is strongly recommended.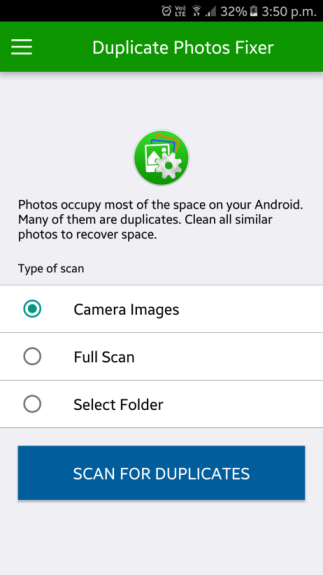 2. Scan For Duplicate Photos? Whats Next
once the scan is complete, you will see duplicated photos on the screen now you can mark duplicate photos for deletion. On the results screen, you will be given some options to mark or unmark duplicate photos. For example, you can unmark or mark first photo from the group of duplicates. Similarly, you can mark the last file from the group and the third options are to un mark the shortest file location. Which means file at the root of the device will be un marked.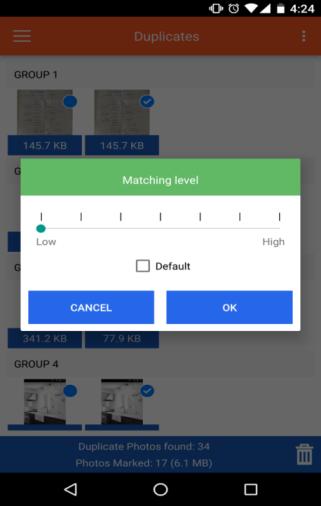 3. Adjustment of matching level:
The best thing which you will like about this application is that like other apps it does not find duplicates on the basis of name it identifies duplicates on the basis of content of the file not based on the file name. you can also make changes in the matching level of duplicate files. The default matching level is 91% which is considered as optimum one by the developers. if you do not want an intense scan you can set low value to Low and for a deep scan you can choose High. Choose the level of matching suits you and remember you can always mark and unmark files before the deletion.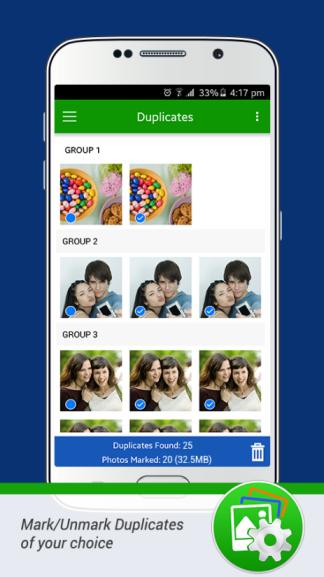 4. Language Selection:
you can choose the language of your choice in the application which makes it very user friendly. Selection of the language of your choice makes the use of application simpler for you. To choose a language of your choice go to Options>Languages.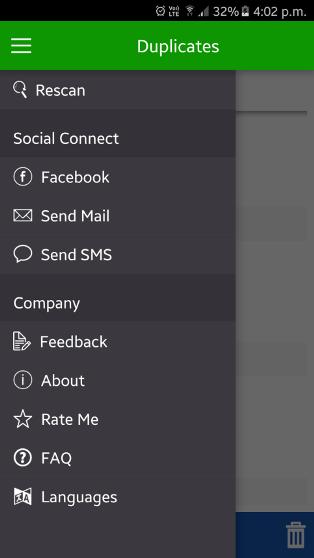 5. Clear cache:
The application is not only known for clearing duplicates it can also clear cache from your device. This will also help to boost your device. Caches are unused files which occupies space on your device clearing these files also free up space on your device.
This is how you can boost memory of your device without spending money on buying memory stick or a new device.
how about this Duplicate Photo Cleaner Android App: Duplicate Photos Fixer Free? make a comment.